Engagement has almost become a buzz word in business and marketing.  It seems everyone is chasing high engagement as the ultimate metric to achieve with followers, customers and staff.  But what does engagement really mean and how impactful is it?
Say you post some content and it is well-received by your audience.  They "engage" with it, liking, sharing, commenting and maybe even clicking through to your website and creating a qualified lead.  Success?  Maybe.  Were they engaged or are they engaged?  What do they do next?  And what did you do about that?  Are you engaged? 
To many it's all about counting the number of likes and shares you've gotten online, but to consider it achieved by that alone is missing a key point.  Engagement numbers tell a short measurable story of response quantity, but not necessarily one of quality which is a more complex and personal experience.  True engagement is about the two-way communication between your business and someone else, and the investment each of you are making to a connection.  This investment is what builds a relationship that can turn a follower into a super user that always likes and shares, an employee into your strongest most vocal brand champion, and a first-time customer into a long-term supporter that won't buy from anywhere else.
"Customer engagement is the process of interacting with customers through a variety of channels in order to strengthen your relationship." 
Sound expensive and hard?  It doesn't have to be.  Often it's all about changing your approach to delivering the same communications and services you always have, but making the other party the main character in an ongoing story you are writing together.  It takes some effort, and a mind shift, but if you do it right, it'll pay dividends.
Here's some guiding principles to get you started with an engagement-first approach to your communications:
1. It's not about the story you want to tell, it's about the story your audience wants to hear.

Everyone has something to say but not everyone cares to listen.  You can spend your energy trying to get people's attention, or you can choose to be a listener and give them what they already want. 
All good business and marketing plans start with research that help you understand your target customers, their habits and the experience they have with your competitors.  But unless you are starting out, your business likely has an existing following in your staff, customer-base and/or on social media that can help you understand more about yourself and who is already paying attention to you.  Start there with what you know, and grow. 
Today's digital world is ripe with free tools to help you understand your target audience and what they are looking for.
Most social media tools are able to tell you demographic information about your followers and provide resources to help you understand what kind of posts are connecting best including what topics, visual content, tone and times of day get a response.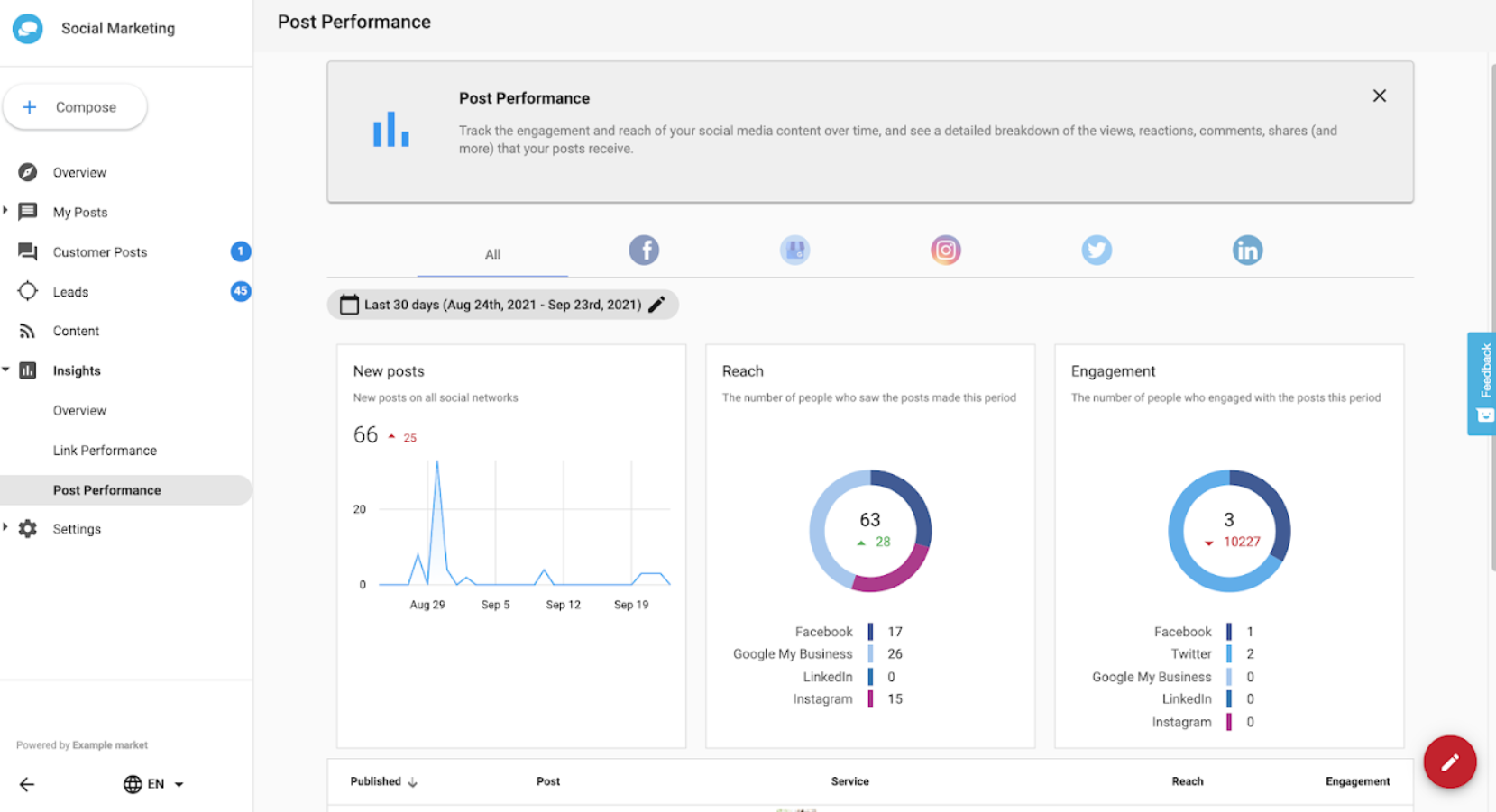 Google also has many excellent tools that can be mined for information with an investment of your time.  A Google Business Profile provides information on how you are being found in the search engine and what actions users are taking when they find you.  Google Analytics can help you understand what content is connecting best with your audience overtime and in the moment.
At Mysask411, we noticed a spike in visits to an old blog on fall suppers this past August.  This told us that people were interested in reading about this topic, so we quickly put together a new blog with information updated for 2021.  The blog was one of our top pieces of content that month because we were able to capitalize on the data we found in Google Analytics to tell a story our audience was looking for.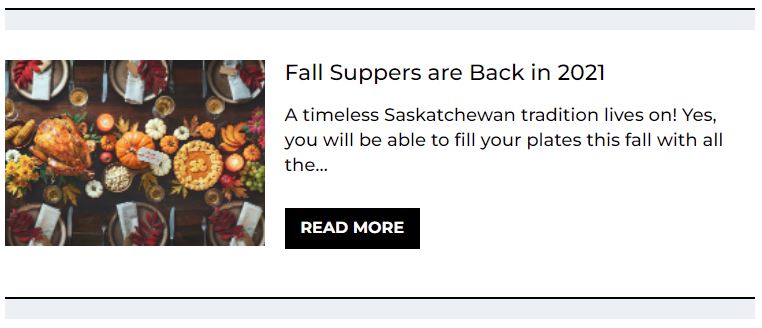 And you can always pull out the good old-fashioned strategy of asking people what they think.  Modern tools make things like surveys and polls an easy way to gather personal and direct feedback on a 1-1 basis.  One-size never fits all.  Not in a brick-and-mortar store and not online.  Finding and catering to your niche audience is the key, and the internet has made it easier than ever before to do that.
2. It's not about you. It's about them.
Who is the main character in the story you are telling about your business?   You can choose to put yourself and the hard work you invest in that leading role in your communications, or you can choose to position those loyal employees and customers as the life blood that keeps you in business.
Recently Directwest told a story about Novus Auto Glass and how our Media Advisor has helped them grow as a business over the past 20 years.   They grew, and we helped, and that's our mutual story.  It was our most successful website article to date.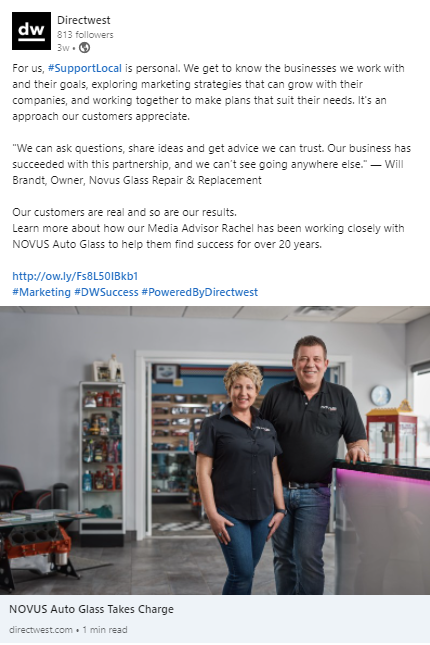 Everyone has story, and while you and your business may be the main character in the stories of some, it won't be in the stories of most of the people you are trying to reach.  Telling a story about you limits your audience unnecessarily.  Telling a story about me….well, now you have my attention, and the attention of the audience who cares about me.  Telling a story about both of us means you get both of our audiences.
"When they have a positive experience with a brand, 72% of customers will share their experience with six or more individuals."
So flip the narrative.  For example, let's say you want everyone to know about a technology change at your company because it's a big change for you and you are excited about what it could mean for your business.  So you create a post on your website and Facebook page announcing the change and why it's great for you, and you end by mentioning that you think your customers will see benefits of this change in the future.  You include social media buttons for easy sharing.   You send it out and wait for the social media community to spread the news.
People who are already following and invested in your business may share your excitement and react, but unless the change directly affects them, there is a high likelihood that people who aren't impacted won't see a reason to care or take an action when they see it.
An engagement-first approach starts there.  What does the change mean to your audience, why should they care, why would they respond to it?
Let's turn that same example instead into an announcement that is about your customers who will now have an easier way to do business with you, a new product offering available to them, a new contact at the company that you know they will love working with.  And instead let's end with a "call-to-action" that gives them a way to actively participate in your excitement.  Like a discount code, a contest, or an invitation to leave a review or let you know what they think on social media.
3. Aim to start a conversation and build a relationship.
So you created a great communication, and you got some great engagement numbers, what did you do next?  Those users that "engaged" by liking your post or sending you feedback…did you keep engaging with them or was that the end?  Now the onus is on you to continue the interaction you've initiated. This means responding to what you got back from them, and keeping the conversation and the relationship alive.
This can be as simple as following Twitter followers back.  Liking and sharing the social posts of others.  Welcoming customers who sign up for your communications and sending them additional engagement opportunities.  Responding to reviews or sharing those survey results, and what you are going to do with them.
In the fall of 2021, Directwest participated in Get to Know Your Customer Day on social media by running a poll.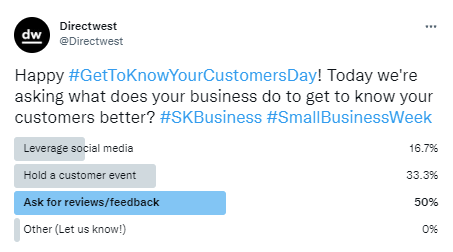 The results of this poll told us that reviews were a key tool of interest to our engaged audience.  We used this information to write a blog on reviews, and we referenced the poll in the blog to demonstrate the participation that we allowed our audience to have in content generation. 
Providing true opportunities for your audience to influence what you are doing, and reflecting the results back to them so they can see that that's what's happening creates an environment for engagement to grow.  Making sure that you include an invitation to take another action in all your communications will create path to continue the two-way conversation you've started – now or in the future.
4. Relationships are a two-way street.
Engagement's success is really demonstrated in the balance of mutual value. 
In the case of the Fall Supper blog example, Mysask411 got a content idea and the audience got the content they were looking for.  In the Customer Poll example, the content enabled us to better understand and find success with our audience, and they gained the satisfaction that comes with feeling that we paid attention to their contribution.  With our story about Novus Auto Glass, the business gained some additional exposure for their brand, and Directwest was able to showcase the skills of one of our top employees.
Think about your communications and interaction opportunities, and if you can't identify the continued mutual value in them, you might not be meeting the engagement test.



So why do all this when you can just pay for social media ads and count the likes and shares as engagement? 
The answer to that is in the numbers.
Your audience is comprised of your present and future customers, and engaged customers build businesses.
In short, true engagement has value because people like to be engaged in real ways.  And if you give people what they like, they keep coming back and may even bring some of their friends with them.  True engagement puts others to work for you, and the impact grows like compound interest.
So actively seek out ways to really connect, allow impactful feedback, demonstrate you're listening, make sure it's for mutual benefit, and reap the rewards.
Nova Alberts is a Marketing Manager with the Brand and Platform team at Directwest.