We recently polled our social media followers to determine what they do to get to know their customers better. Half of respondents answered, "ask for reviews/feedback". While the benefits of online reviews are obvious to consumers, there are many benefits to businesses as well.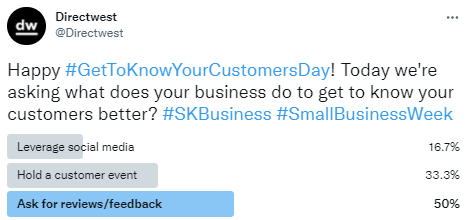 It's Okay to be a Spy
Asking for reviews is a great strategy for local businesses to get to know their customers better and indirectly research their customer base. The responses left by customers are insights into what is selling in your store and if/how you might need to pivot. As well, a business that reads the reviews of competitors can gain intel that will assist in adapting their business strategy. At Directwest, we have a product that does just that – displays the positive and negative reviews of your competitors in an easy-to-use dashboard. If you want to know more details just reach out!
In the digital world, reviews can also improve a business's SEO. Local search engines love online reviews (because consumers love online reviews). The more your business gets reviewed, the better chance it has of ranking higher when searched.
Turn a Negative Into a Positive
When I'm checking online reviews, I'm also interested to see how the business responds to both positive and negative reviews and how long it takes them to reply. Obviously, a glowing, five-star review is easy for a business to manage and replying to these customers is a pleasure. Although it can be more difficult to handle, it is equally important for a business to reply to negative reviews. Acknowledging a negative review and providing the customer with recourse will, most times, turn the situation around. Recently, I ordered a birthday cake from a local bakery for the sole reason that this business acknowledged a poor experience from another customer and reached out to offer this customer free product to rectify the problem. This impressed me and created trust that led to my purchase.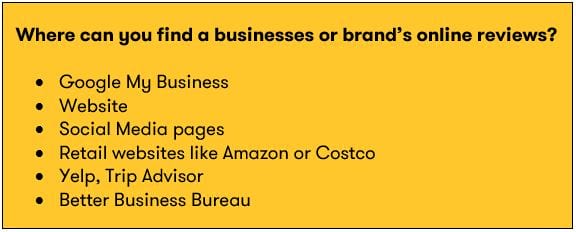 Manage Your Reputation
If you're a business who wants to start reaping the benefits of reviews or just need help managing the amount you already have, check out our Reputation Management Product. We make it easy for you to find and reply to all your reviews in one place. And if there aren't enough hours in the day, we can reply to your reviews for you using our Review Management Product. As always, we are here to help with any of your marketing needs!
---
Sarah Elchuk is a Product Consultant on the Revenue Growth Team.