According to a recent survey, Canadian Internet Registration Authority (CIRA) Internet Factbook 2020, "a sense of trust is required for online shoppers to make the leap to a transaction. Canadians are most comfortable shopping from Canadian retailers that have a website[1]'.  And I would suggest not just Canadian retailers, but any type of online business needs to convey "trust".
So, how do you build trust through a website?
Remember the old saying "you only get one chance to make a first impression"? The first way is through visual design that is polished and professional. This is the visual appeal of colours, fonts and the layout of your pages. A professionally designed site shows you are a business that's serious about your online presence.
Brady's House of Flowers in Weyburn uses beautiful photography, crisp lines, and consistent branding to present a polished website. The scrolling image bar allows customers to view the product selection without having to click. Large, high quality photos give visitors a good feel for the products.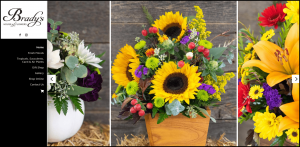 Once you've nailed the look and layout, turn to your use of language including the site navigation naming and the content on your pages. Potential customers do not know your business like you do so try to use language that anyone can understand.
If you have a lot of products or services, try to group them into logical "buckets". These buckets make up the main navigation of the site. Give a few friends or former customers a specific task to go through on a mockup or pre-production design of your site. Watch them as they do it and you will discover any potential usability issues. The general rule here is keep it simple, clear and concise.
Typos and broken links quickly erode trust. Go through every page and link on your site to make sure they are all working as expected and link to appropriate pages. Don't make your visitors struggle to find what they want. Your competitor is only a click away.
Have an easy-to-understand process for customer ordering – make it very obvious how someone can purchase from you whether that's to book or buy or to get more info. The Patty Gourgaris Laser Skin Studio allows customers to easily 'search and sort' in their online store.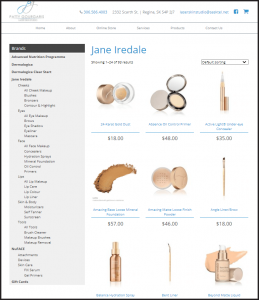 Finally, make sure your contact information is on every page in the same location and easy to find.
There is a tendency for businesses to overly focus on the design of the homepage, but with most website visits coming from a search engine results page, a potential customer could land on any page of your site. Every page needs to be polished and professional looking, not just the homepage. If you've setup reporting, you can find your most visited pages in analytics tools such as Google Analytics. It's free and worth setting up and visiting regularly to see what visitors to your site are doing.
I hate to say it, but the holiday season is here. If you sell a product that requires a store visit your customers will want to know you have stock before they visit. For appointments, they'll want to know when you're available. If they can do that quickly and easily online you're more likely to get their business.
Take care of the digital basics of your business and then build your online presence from there. People want to support local businesses now more than ever. Make sure you're ready for them.
Happy Holidays!
-Andrew Clarke is the Director of Brand, Digital Platforms & Research at Directwest
[1] https://www.cira.ca/resources/factbook/canadas-internet-factbook-2020