In our last blog we focused on combining both traditional and digital marketing techniques as you evaluate your marketing strategy and where you should go now. This week we want to add websites, Search Engine Optimization and Google into the mix!
Customers expect to be able to find your business quickly and easily online.
Research has found that the majority of consumers do online research before making a purchase either online or in-store. Believe it or not, according to Canada's Internet Factbook 2018, 74% of Canadians spend at least three to four hours each day online and 52% of Canadians spend time shopping online!
Having an up-to-date business website with mobile-friendly technology is a must. Today's customers have little patience for incorrect or out-of-date information, and it's easy for them to go somewhere else. Your website should reflect your brand, showcase all your products and services and make it easy for customers to contact you.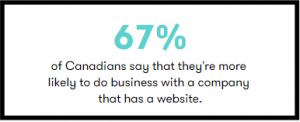 Break through the digital noise.
There is a lot of noise out there. The noise you need to worry about most is the noise made by competitors operating in the same product or service category. Search Engine Optimization (SEO) focuses on growing your visibility in organic search results and enhancing proximity-based searches. SEO can impact your competitors' noise.
Knowing what information works best to improve your online visibility can be tough to determine. Start by putting yourself in a customer's shoes. How would you search for the product or service that your business offers?
Here's an easy first step for optimizing your online information: make a list of words to describe your product or service that would closely match how a potential customer would search online. These are your keywords! If you want to validate your key words using a Keyword Planner is a good idea. We like the Google Ads planner but there are many other free options.
Leveraging Google.
First, let's define a key concept – organic leads. Organic leads happen based on the non-paid placement of your business in search engine results.
Launched in 2014, Google My Business is a service for business owners operated by Google as a way to give owners more control over appearances in Internet search results. Business owners can verify their own data by creating a new profile or by claiming an existing auto-generated business profile.
Another option is Google Ads (AdWords), an online platform where business owners pay to display brief advertisements, product and service listings or videos. As a business owner or advertiser, you can bid on keywords to appear in a potential customer's search.
Measuring the number of click-throughs, or conversions made to your website, helps identify which strategies are working and which aren't.
Next week, the last of our Marketing Mix blogs will introduce you to Out of Home Advertising, yes billboards, and why it works.