Gone are the days when you had to be in your home on your desktop computer to access the internet. Now, you can get online anywhere, from your smartphone to your laptop in free wi-fi areas. "Hey Google…" "Google it." These have become commonly used phrases in our everyday lives. When you look at the amount of time consumers today spend online, the data is undeniable. If your business isn't being found on Google, it should be.
What is Google Search?
Google has a digital library of billions upon billions of web pages. When you perform a search, Google's algorithms sort through this library to find the most relevant results. To be extra helpful, Google gives you multiple ways to view these results: lists, images, maps and more. With so many searches happening on Google every day, having your business online, set up in Google's library, is critical.
How to get on Google.
If you don't have an online presence, or you're in the middle of getting yours up and running (hopefully the latter!), you can't be found in Google's library, so what can you do? First, you need a Google account. Once you've created your account, a great place to start is setting up a Google My Business page.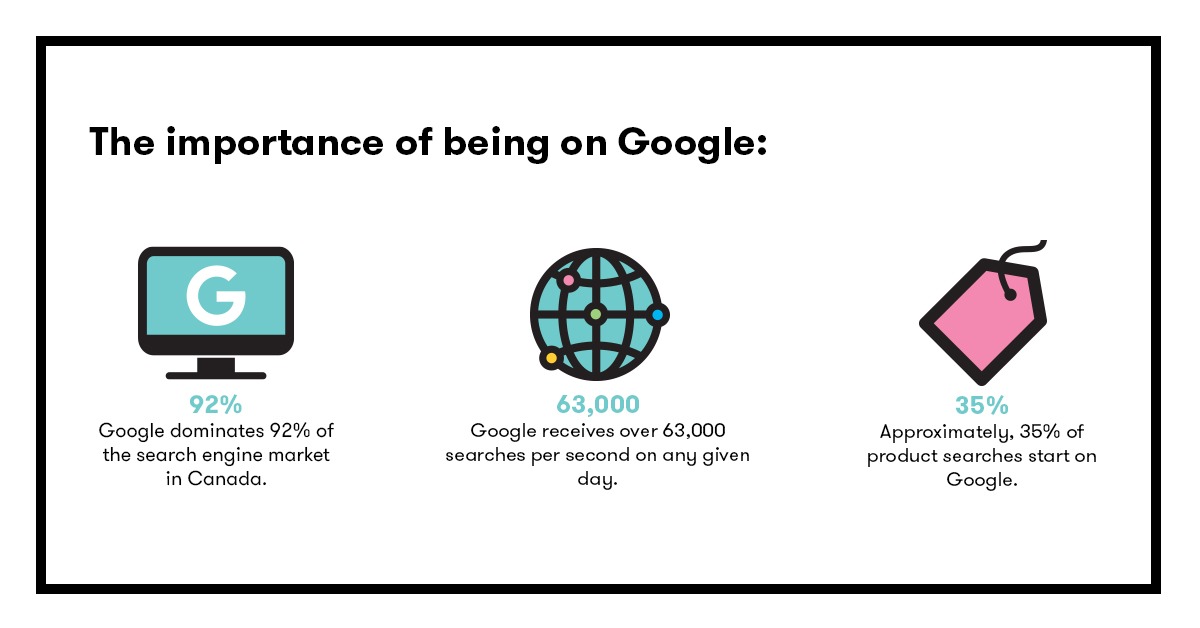 1 StatCounter Global Stats, 2019
2 https://seotribunal.com/blog/google-stats-and-facts/
3 eMarketer
Google My Business.
What is Google My Business (GMB)? It's a free page that houses your business' operating information, including your location, hours of operation, customer reviews, posts, etc.
When consumers search for your business or keywords associated to your business or products and services on Google Search or Google Maps, GMB content allows you the opportunity to be displayed as a listing on the first page of results. This listing, commonly known as a Google Knowledge Panel, is located in the top right-hand corner of your Google search results (or if on mobile, near the top of your search results).
Google Tip:
The more information Google has on your business, the better! By optimizing your GMB page, the more types of searches your GMB listing can appear in.
In order to manage your Google My Business listing, you must verify your business first.
Once, you've verified your business you can begin to:
Manage the information your customers see when they search for your business
Display relevant and accurate information about your business
Increase engagement with potential customers
Manage your online reviews
Collect user-generated content, such as photos and videos customers have taken of your business and your products
Understand how your customers are arriving on your website, finding your listing and searching for your business through insights
Create posts on Google to share your latest news, specials, products, and events with current and potential customers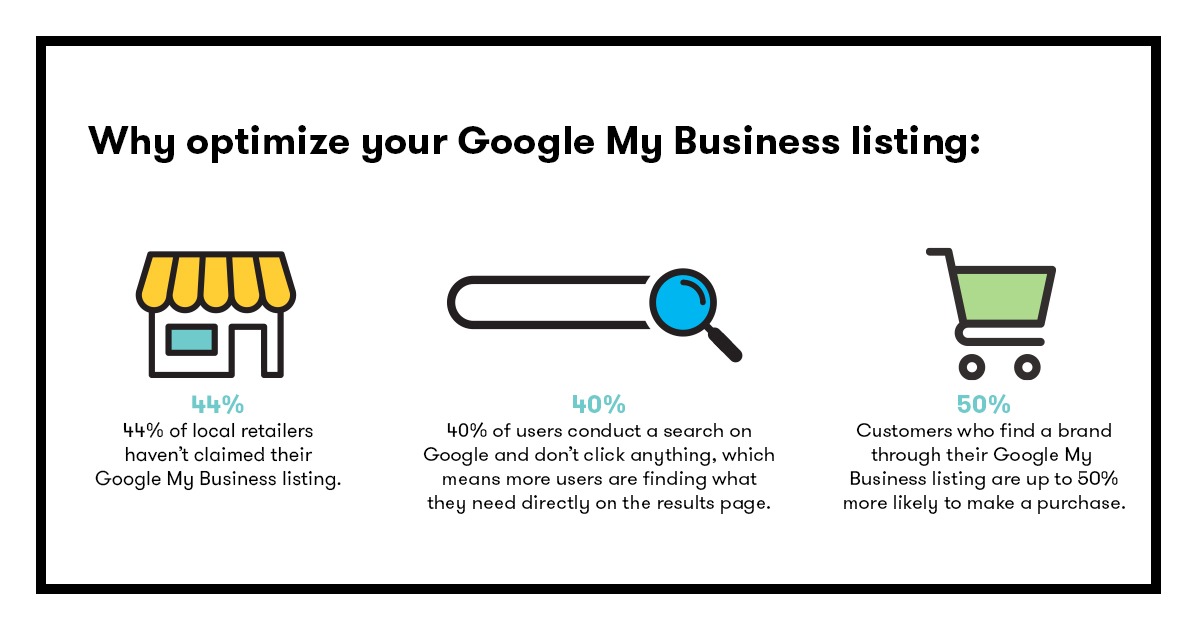 4 https://intuitivedigital.com/blog/local-seo-for-local-businesses/
5 https://intuitivedigital.com/blog/google-business-rolls/
6 https://thrivehive.com/the-benefits-of-a-google-my-business-listing/
Marketing on Google Maps.
Google Maps is a well-known, incredibly versatile tool that allows searchers to quickly and easily find directions from one location to another.
However, Google Maps is more than just a navigational tool. It's become an information hub for local businesses and an online business directory that is great for finding local businesses in your area or area of search.
With smartphone usage and the number of Google searches happening on mobile devices on the rise, marketing on Google Maps can help you get in front of your consumers fast by making your business easier to find while driving awareness for your company. It provides searchers with step by step directions and real-time traffic information, to get them to your doorstep.
While the ultimate goal is to achieve as high a placement as possible or to appear in the local 3-pack, your business can appear when users search within Google Maps or on Google search. While anyone can add a location to Google Maps, to have control over your business listing, you must create a Google My Business page and claim your listing(s).
7 https://support.google.com/business/answer/6335804?hl=en#Share_photos
8 Ibid.
Make sure to watch for our next blog on how to use data (from Google Analytics) to understand your customers. And as always, if you have any questions or need help setting up your online presence Directwest is always here!
Useful terms:
Algorithms: the formula or set of rules Google uses to rank the resulting web pages from a user's query.
Google Account: a user account that is required for access, authentication and authorization to certain online Google services.