As more and more consumers depend on the internet to solve their burning
questions, it's becoming crucial for businesses to be online. Advertising your business online, especially on Google, can help you grow your business. If you want to reach more customers and specific demographics in a fast, flexible and trackable way all at a lower cost, advertising with Google Ads might be right for you.

Google Ads.
Google Ads, formerly known as Google Adwords is an online advertising service that allows businesses to display ads on Google search results (Google Search Network) or through the Google Display Network.
The Search Network provides advertisers the opportunity to be seen by customers at the exact moment when they're searching for products and services similar to the ones you offer. The ads look almost identical to the normal, unpaid search results and are displayed at the top and bottom of the search results page.
The Google Display Network works differently as your ads are displayed on third-party websites that have partnered with Google and have agreed to display Google ads. Your "display ads" or "banner ads" are placed on websites that Google believes align with your target market.

Benefits of using Google Ads.
With Google Ads, you can grow your business by reaching new customers online within the budget that works for you.
According to Google, for every $1 businesses spend on Google Ads, they make an average of $2 in revenue.
You, the advertiser, determines how much you're willing to pay anytime a consumer's search term triggers a keyword that results in your ad getting clicked. You set your own daily budget and only pay when someone clicks your ad to visit your website or calls you.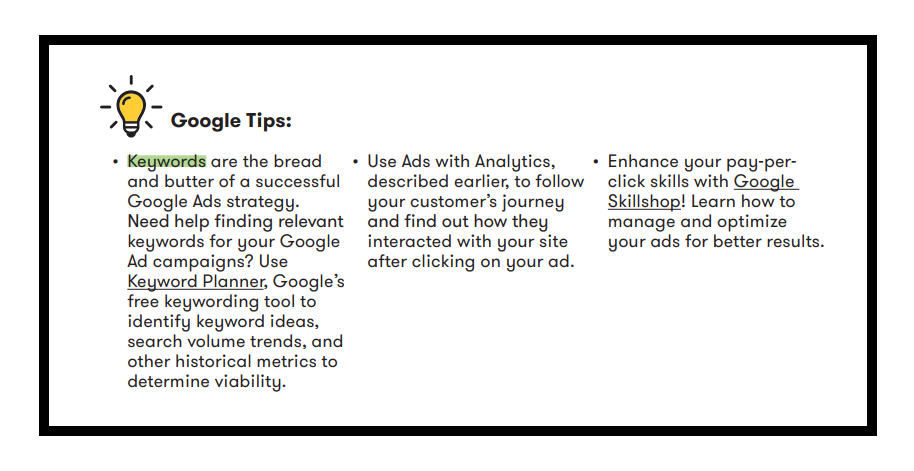 Other advertising options.
Already mastered Google Ads? Have you considered in-app advertising and display advertising?
In-app advertising.
With the average mobile user having as many as 80 apps on their phone, in-app advertising and display advertising has become a sure-fire way to capture your target audience's attention.
Now more than ever, it's easier for advertisers to reach their ideal audience through in-app advertising and display advertising. Since apps collect first-party data on an opt-in basis, targeting users based on various demographic information, such as geo-location, gender and age has become a much simpler process.
Earn money from your website.
Did you know you can earn extra revenue from your website with Google AdSense?
Google AdSense is a free, simple way for website owners to earn money by displaying targeted ads next to their online content. With AdSense, visitors to your site will be shown relevant and engaging ads. You can even customize the look and feel of the ads to match your website. Check out Google's Guide to Adsense to get started!
Monetize your app with in-app advertising.
Do you have a mobile app? You can earn money for your business by displaying targeted ads to your user base using Google's free Ad Mob platform. With Ad Mob, you can display ads to your app users and customize the look and feel of the ads to match your app. Check out Google's Guide to Ad Mob to get started!
Google for Retail.
Did you know that selling your products online can allow you to tap into a wider audience and help you to better compete with larger businesses?
If you sell clothing, hardware or any type of products directly to consumers online or in-store, it's time to take advantage of Google for Retail.
Google for Retail is an online inventory management system that allows online shoppers to see your products directly in their search results without them having to visit your website.
You can get started by setting up a Merchant Centre Account to get your business and product information into Google, which will make it available to shoppers across Google.
Once, you've uploaded information about your products into Google Merchant Center, you can begin to create Shopping Campaigns in Google Ads. Shopping ads allow shoppers to quickly and easily find your products on Google, by showing the right products to the right shoppers at the right time.
And the best part is your customers can complete their purchase with your business, right on Google!
With Google for Retail, you can manage your products, learn about your customer shopping behaviour, and adjust your business to the changing trends in their online shopping habits.