If you're a small business owner, digital advertising for your business can be overwhelming. With so many options available to you, it's hard to keep up to date on the non-stop changes in technology, let alone choose an option that's right for you and your business. Like with anything, you have to start somewhere. Let's talk Google.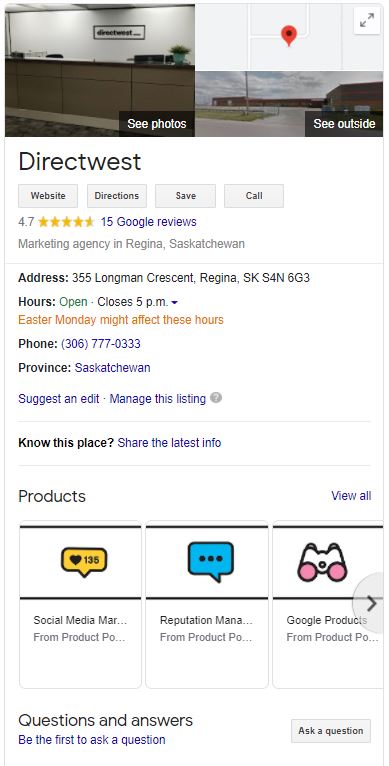 Google offers a whole suite of products that allow small business owners to maintain a strong online presence. Some of these products include the Google My Business Dashboard, the Google Knowledge Card, Google Maps and Google Plus. Don't worry, it's not as complicated as it sounds. Here's the breakdown:
Google My Business – a self-serve dashboard for small business owners to build and maintain their online presence.
Google Knowledge Card – a card of condensed frequently sought after information including business name, location, description, images and customer reviews.
Google Maps – put your business listing on Google Maps to ensure customers can find your location and get directions to your business.
Google Plus (Google +) – Google's social networking service where customers can interact and engage with your business.
Not so bad, right? Now that you know about a couple simple options available for your business, how do you get started? That's where we come in. Here at DirectWest we offer a Google Basic product that includes the creation of a Google account for your business where we will claim and verify your Google My Business Dashboard and add content for your Google Knowledge Card, Google Maps, and Google Plus.
Still not sure? As of April 2017, 77% of the global search market belonged to Google.[1] Call and speak to one of our advisors to learn more about how easy it can be to have an accurate and consistent online presence. Getting online has never been easier, the trick is to keep it basic, with Google Basic.