You might be reading this article because you're wondering the point to all the noise you hear about Google Ads. I'm here to bust the myths and shed some light. We'll cover everything you've been missing out on and explore Directwest's Search Marketing Services.
First-things-first, if you don't pay attention to the world wide web or anything remotely related to social media, all you need to know is that "EVERYTHING HAS CHANGED." Okay, that's an exaggeration. Everything hasn't changed, but search engines have.
Before we get into it, it might be helpful to provide context on how search engines began. Don't worry, this isn't your typical history lesson. It's short and to the point. Read on…
History of Search Engines
Back in your parents' day, the way most people learned about the world around them was either through radio, the daily newspaper and later through television. When the internet became mainstream, pockets of information became available in the form of websites. Today you can find a website on just about any topic, but you already knew that.
With so many websites looming the stratosphere, companies like Google, Bing, and Yahoo, rushed in to solve the search dilemma. They created websites to find other websites and called them search engines.
How Search Engines Work
My head hurt the first time I dove headfirst to learn about this stuff so, I'll get right to the point.
When it comes down to it, search engines have three primary functions:
Crawl: Scour the Internet for content, looking over the code and content for each URL they find.
Index: Store and organize the content found during the crawling process. Once a page is in the index, it's in the running to be displayed as a result for relevant searches.
Rank: Provide the pieces of content that will best answer a user's search, which means results are ordered by most relevant to least relevant.
To learn more about how search engines work, click here.
The Fight for First Place
With hundreds of thousands of websites to index, search engines like Google, developed sophisticated algorithms to decide how websites will rank once the search engine returns the search results.
Imagine having to compete for the top spot out of thousands of websites with similar content. It's almost impossible. Unless of course, you pay hundreds of dollars to rewrite your website's architecture and, wait for it, regularly adjust the textual, aural, and visual content on your website.
Do you see the problem with this? How about I spell it out: TIME CONSUMING and COSTLY.
Enter stage right: Search Engine Marketing (SEM)
With over 63,000 searches per second on any given day, it doesn't take a genius to realize the best place to advertise is on the very place people search for content. After some protest, a few smart individuals, at Yahoo headquarters, got together and decided to create a bidding war, I mean auction, for the top search results.
Yahoo and other similar search engines made it possible to promote a website by increasing its visibility on search engine results page (SERP) primarily through paid advertising. As an advertiser you can bid on keywords people use to search and depending on other factors like content relevance, you can shoot right to the top of the SERP.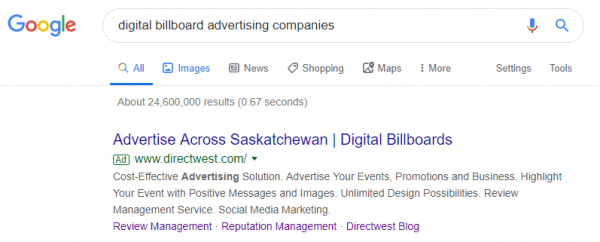 However, proceed with caution. Like with most things in life, simple doesn't mean easy.
Directwest's Premium Search Marketing Service
With over eight years of combined experience, Directwest's Google Ads Management team can filter through the noise and simplify the auction process. We help you receive priority placement on Google without solely relying on organic traffic—saving you TIME and MONEY.
By leveraging our internal, Google Ads certified personnel, we work with you to build the ads, select the right keywords, and monitor your campaign's performance for the best ROI.
The value we bring to the table includes:
100% internally fulfilled. We don't outsource.
Opportunity to target specific demographics, locations, and keywords. Just tell us where you want the bullseye.
In-person consultation call. We take the time to know you, without being intrusive.
Monthly contact to discuss performance, conversions, and reporting. Because we care about your bottom line.
Interested? To learn more about our Google Ads Management Service, call us at 1-800-667-8201, email at dw@directwest.com, or contact your media advisor for more information.
Follow us on Facebook, Twitter, LinkedIn, and Instagram for updates on our products, tips to grow your business and more!
-Daniel Bay was a Product Consultant on the Revenue Growth Team at Directwest.