News Release – June 25, 2020
Today Directwest announced that it will soon launch its first digital billboard in the City of Prince Albert, giving businesses in and around Saskatchewan's third largest community a powerful way to reach existing and potential customers.
"Directwest's move into the Digital Out of Home Industry has been a huge win for our customers," says Keith Jeannot, President & CEO. "Since acquiring our first digital boards in 2018, we have thoughtfully and purposefully grown our footprint so that we now operate boards in Saskatchewan's eight largest urban centres, allowing our customers to effectively reach their markets on a local or provincial scale."
Strategically placed at 230-330 Marquis Road, this new 20'x10' digital board is located along one of Prince Albert's busiest corridors which sees on average, over 13,000* vehicles pass through it each day.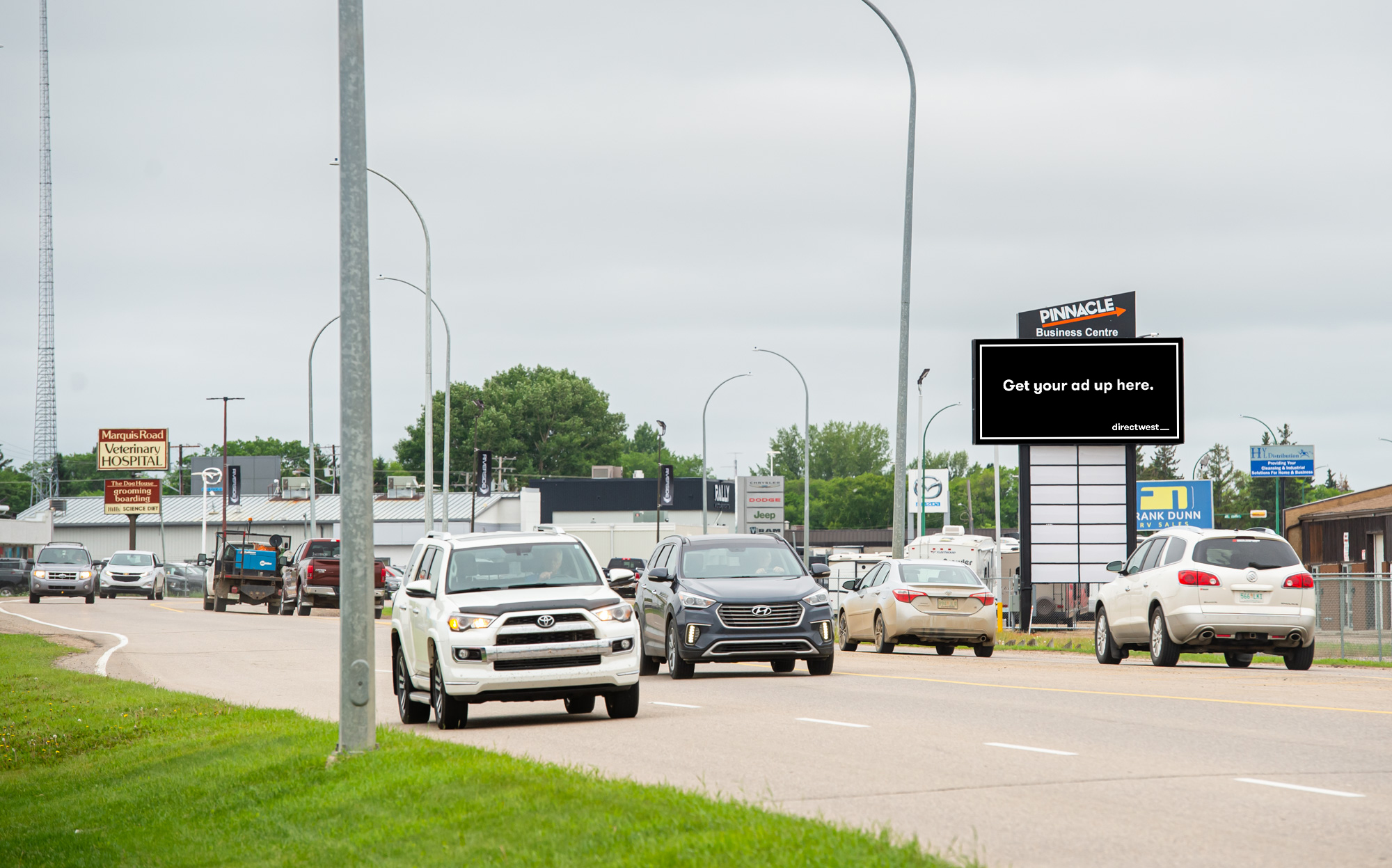 Scheduled to begin displaying ads in early July, the new digital board has already caught the attention of several local businesses, including Laurie Nyrifa, Owner of Country Comfort and Fine Furniture, who had this to say.
"My husband proudly started this business 34 years ago and it's still going strong today as a locally owned family business. The prime location allows me to utilize the digital board for additional means of exposing my business and promoting our quality Canadian Made solid wood furniture & mattresses. It's also important to me to support another local business in Directwest."
As a long-standing Saskatchewan based company and one of the leading Digital Marketing Service providers in the province, Directwest has a keen understanding of the marketplace as well as a multi-platform advertising portfolio designed to help businesses connect with their customers.
Added Jeannot, "As businesses in Prince Albert and across the province begin to re-open their doors, our team of digital marketing experts are ready and eager to help them re-connect with their customers as soon as possible."
To learn more about the Digital Marketing Services offered by Directwest please visit www.directwest.com.
*According to the City of Prince Albert's 2014-2019 Traffic Report.
About Directwest
Directwest, a wholly-owned subsidiary of SaskTel, has been connecting buyers and sellers across Saskatchewan for over 100 years. Offering a suite of digital marketing services from website design to digital advertising management, Directwest continues to launch innovative and customer driven products and services while delivering strong, measurable return on investment for their customers. Directwest is home to the largest inventory of digital billboards province-wide and is also the exclusive provider of Mysask411 with local information available in print, web, and mobile app. Directwest's head office is in Regina, Saskatchewan and also has an office in Saskatoon.
For more information, please contact:
Greg Jacobs, Manager of External Communications
Phone: 306.777.3433
E-mail: Greg.Jacobs@sasktel.com